Lebenslauf/CV
Rolf Steininger, Em. Ordentlicher Universitätsprofessor, 1984-2010 Leiter des Instituts für Zeitgeschichte der Universität Innsbruck, seit 2008 auch an der Freien Universität Bozen tätig, geb. in Plettenberg/Westfalen; Studium der Anglistik und Geschichte in Marburg, Göttingen, München, Lancaster und Cardiff; Dr. phil. 1971, 1976 Habilitation für Neuere und Neueste Geschichte unter Einschluss der anglo-amerikanischen Geschichte an der Universität Hannover, 1980 Professor an der Universität Hannover, seit 1983 in Innsbruck; 1993 Ruf an die Universität Düsseldorf; seit 1995 Jean Monnet-Professor; Senior Fellow des Eisenhower Center for American Studies der University of New Orleans, im Vorstand der European Community Studies Association; Gastprofessor an den Universitäten Tel Aviv, Queensland (Australien), New Orleans; Aufenthalt als Gastwissenschaftler in Saigon, Hanoi und Kapstadt; Advisory Board Member for H-German.
2005 Verdienstkreuz des Landes Tirol "für Verdienste um die Universität Innsbruck".
2007 Ruf an die Freie Universität Bozen.
2010 Tiroler Landespreis für Wissenschaft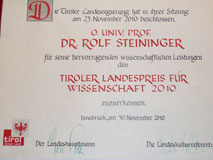 2011 Verdienstkreuz der Stadt Innsbruck

Treffpunkt Südtirol, RAI Sender Bozen, Zur Person, 17.01.07


(Zur_Person.mp3)
Artikel in "Der Standard", 26.2.2005
Festschrift zum 60. Geburtstag
Festschrift zum 65. Geburtstag (Besprechung)
Laudatio von Walter Pehle, Frankfurt
FAZ zum 70. Geburtstag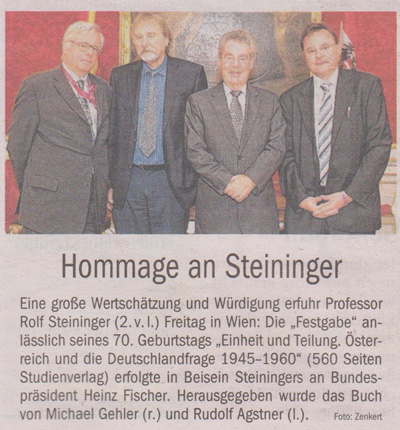 Michael Gehler / Rudolf Agstner (Hgg.): Einheit und Teilung. Österreich und die Deutschlandfrage 1945-1960. Eine Edition ausgewählter Akten. Festgabe für Rolf Steininger zum 70. Geburtstag
darin die Laudatio von Michael Gehler

Collage zum 65. Geburtstag
"Rolf Steininger im Laufe der Zeit(-Geschichte)": Collage meines Sohnes Axel
"King of the documenters"; Ian D. Palmer, Oxford 1989.
"One of the leading authorities on Germany and the Cold War"; John A. Moses, University of Queensland, 2002.
"…gehört zu den besten Kennern der neuesten deutschen Zeitgeschichte"; Hermann Graml in der FAZ, 7.2.2003.
"…einer der besten Kenner der archivarischen Grundlagen europäischer Geschichte des 20. Jahrhunderts"; Klaus Hildebrand in der FAZ, 17.10.2005.
"Einer der führenden Zeithistoriker im deutschen Sprachraum." Erwin A. Schmidl 2017 in David. Jüdische Kulturzeitschrift.
2005 Verdienstkreuz des Landes Tirol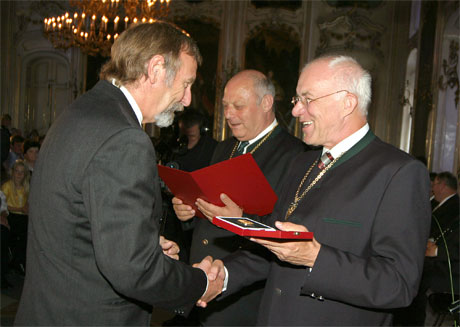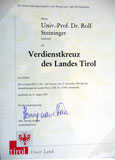 15. August 2005, Hofburg Innsbruck: Überreichung des
Verdienstkreuzes des Landes Tirol durch den
Landeshauptmann von Tirol, DDr. Herwig van Staa
und den Landeshauptmann von Südtirol, Dr. Luis Durnwalder
Video dazu, 15MB